Mother's Day at Park Avenue Pharmacy!
April 6, 2023
One day only! A Place for Grace will be at Park Avenue Pharmacy with beautiful florals in handmade ceramic vases,  just in time for Mother's Day! Use the QR code to pre-order or shop on-site Saturday, May 13th from 8 AM – 1 PM.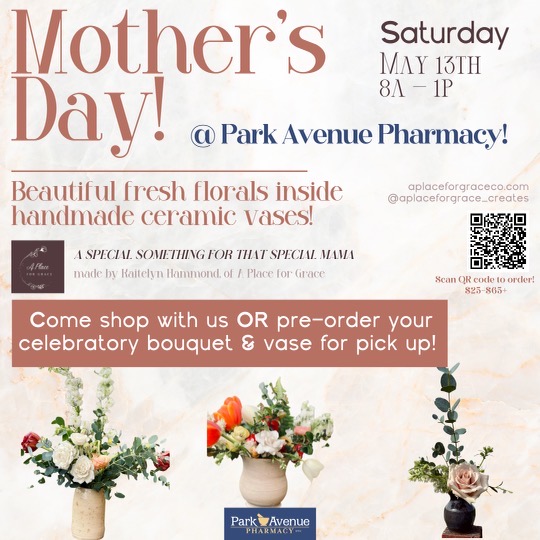 Valentine's Day Sale | Feb. 1-14
February 10, 2023
Now through February 14, shop our storewide Valentine's Day Sale for 20% off Gifts, Russell Stover candy, Whitley's Nuts, and more. Shop early for best selection! Free gift wrapping!
2022 Christmas Open House is coming November 18
October 27, 2022
Mark your calendar! Our Christmas Open House is coming on November 18 from 8 AM to 7 PM. Enjoy a great selection and special prices storewide! The BBAR Grill truck will be outside for lunchtime hour! One day only! Free gift wrapping is available.